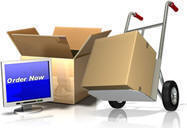 What is a fulfillment service?
No Account Fees – No Minimum Volumes – No Commitments – No Long Term Contracts
National Postal Services is an order fulfillment company.
Our fulfillment service involves the storage, picking, packing and shipping of your products.  Your products are safely stored in our CBD location at 585 Little Collins Street Melbourne.
From storage to shipping, National Postal Services offers everything you need to get your online sales to your customers. First, we integrate with your e-commerce platform.  Then, we process your inventory and store your stock at our secure Melbourne CBD location until your orders require shipping.
Once an order is received it is picked and packed according to your specifications and shipped with the carrier of your choice—on the same day if we receive the order by 12pm Australian Eastern Standard Time (10am for International orders). At the end of the day we will also update your e-commerce platform with tracking details.
FREE CBD Address !!!
When using our Third Party Fulfillment Services you are welcome to use our CBD address for your online store.  You may have your stock delivered directly here or simply use our address on your website to help increase your Google ranking.
Transparent pricing
No long­-term contracts
No minimum volume requirements
No hidden fees
No commitments
Picking and Packing
Our fulfillment service starts from as low as $4.50* per order picked plus the packing and shipping costs.  This includes up to 5 items per order and 2 and 1/2 minutes towards physically packing your order.  Orders requiring longer than the allocated packing time or have more than 5 items will be charged at a higher rate.  We are as conscious about your costs as you are and will search for the most economic method of packing and shipping your products for each individual order.
Shipping
We are able to offer domestic and international shipping using a variety of carriers including TNT, E-Go, DHL Post Global Mail, Australia Post, and Mailcall Couriers (same day courier service).
We have a wide range of packing material in stock to ensure your product is packed as safely as possible for it's journey.  We have many different sizes of cardboard boxes, padded envelopes, tough bags, mailing tubes, bubble wrap, corrugated cardboard and foam pellets. We also have Parcel Post satchels, Express Post Satchels and Envelopes, Platinum Express Post Satchels and International Express Post Satchels and Envelopes.
Storage – From as little as $2.20 per day
Storage space is available from as little as  $2.20 per day ($66.00 per month) for storage space measuring up to (h) 1.8m x (w) 1.8m x (d) 60cm – less than 150 orders per month  – $99.00 per month  OR more than 150 orders per month $66.00 per month – (Charges are based on a calendar month)
Larger areas are available POA.
WE OFFER ALL NEW FULFILLMENT CUSTOMERS A REDUCED STORAGE FEE FOR THE FIRST SIX MONTHS WHILE YOU MAKE SURE WE ARE THE RIGHT FIT FOR YOU AND YOUR ONLINE STORE.
Returns
If you are drop shipping directly from your overseas supplier and need someone to manage your Australian returns we can help you there too.  From as little as $2.50 per order returned we will receive your product, check it for signs of wear and tear, and advise you of its status within 24 hours of it's receipt. If your items require rebagging and/or labelling to return them to "as new" condition we can help you there too.  Prices are available upon application and are tailored to your requirements.
Invoicing
Invoices will be issued weekly, fortnightly or monthly depending on volume. Payment is due within 7 days.  No security deposit is required when credit card details are held for payment.
Please contact our office and request an obligation free copy of our price list which will include terms and conditions of use.
* $4.50 per order fulfilled up to 5 items per order with 2 & 1/2 minutes packing time.